Beste kwaliteit verschillende vorm Verschillende kleuren Cake Eraser
1. Item No.:XDDF
2.Brand: SOODODO
3. Material : TPR and Rubber
4. OEM:we can do according to customer's design
5. Color: various color for you as your requirement
6. Quality:we could pass EN71-1/2/3, no-Phthalate ,CPSIA test,environment friendly
7. Production capacity: 15 tons/day
8. Port: Ningbo and Shanghai
9.Packing: opp bag,pvc bag,blister card,gift box,cake box,opp bag + insert paper, foil bag
10. Payment terms: T/T 30% deposit,the balance should be paid before shipment.
11. Export experience: we have exported many different countries for many years.
12.Mold experience: we devote to 3D shaped eraser over 10 years.Mold control and cost control is the best in our field.
13.Design department:we have the best design team in package and product.
Informatie over gommen:
1. gratis monster
2.eraser fabriek
3.OEM / ODM geaccepteerd
4.EN71 en niet-ftalaatcertificaat
5. Hoogwaardig ECO-vriendelijk TPR-materiaal
6. laagste fabriek prijs met verschillende, elegante en mode ontwerpen voor referentie
7. EN-71 & CPSIA-norm
Waarom kiezen voor SOODODO 3D-vormige gum?
1. Hoge kwaliteit en goedkoop, vergeleken met de producten van andere bedrijven in dezelfde
materiaal ons product heeft de laagste prijs
2. hoogwaardige materialen, ons materiaal milieuvriendelijk loodvrij en niet-toxisch, naleving
internationale milieunormen
3. Een breed scala, onze 3D-vormige gum heeft een unieke stijl en aantrekkelijk ontwerp, de
nieuwste exclusieve ontwerp maandelijkse , toonaangevende trend.
4. Goede diensten, van order productie verpakking verzending ontvangen, volledige toezicht controle
en volgen, om verliezen en schade te voorkomen om klanten problemen te bezorgen
5. ons bedrijf is gewijd aan het ontwerp en de vervaardiging van 3D-vormige gum meer dan 10 jaar, we gewoon
maak 3D-vormige gum.
Waarvoor dient SOODODO 3D-vormige gum?
1.De luxe kantoorwisser is geschikt voor school, kantoor , geschenk , tekening , promotie, leren , niet
alleen gebruiken, maar heeft ook de functie van decoratie en entertainment
2. Onze wisser heeft een efficiënt wisvermogen en is onschadelijk voor papier
3.Productmilieu. Het materiaal is TPR, is milieuvriendelijker dan anderen
Bedrijfsinformatie :
1. We houden de fabriek en de handelsafdeling .
2. 12 injectie machine s , 5 mix kleurenmachine, 6 hot-seal machine
3. 100 vaste werknemers, 50 tijdelijke werknemers
4. Voornaamste klant: Target, Wal-Mart, Dol l ortree etc.
5. Fabriek is gecertificeerd volgens ISO9001-normen
6.T housands van modellen zijn beschikbaar voor c us tomers om matching te selecteren.
7. Accepteer de bestelling
8. Fabrieksprijs met de beste export- en leveringsgarantie.
9. 10 jaar zeer bekwaam in gumindustrie en exportervaring.
10. OEM & ODM zijn van harte welkom!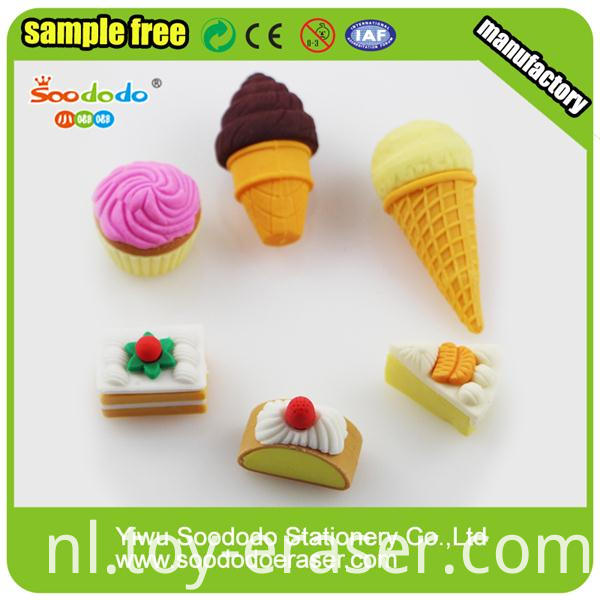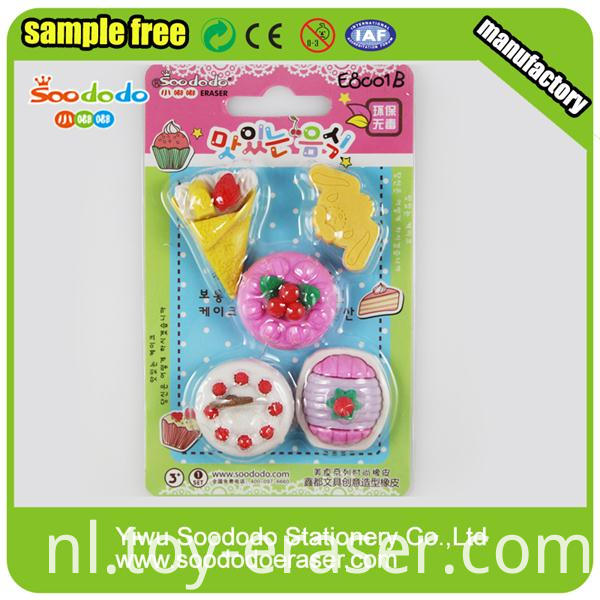 Product Categorie : Voedsel vormige gum